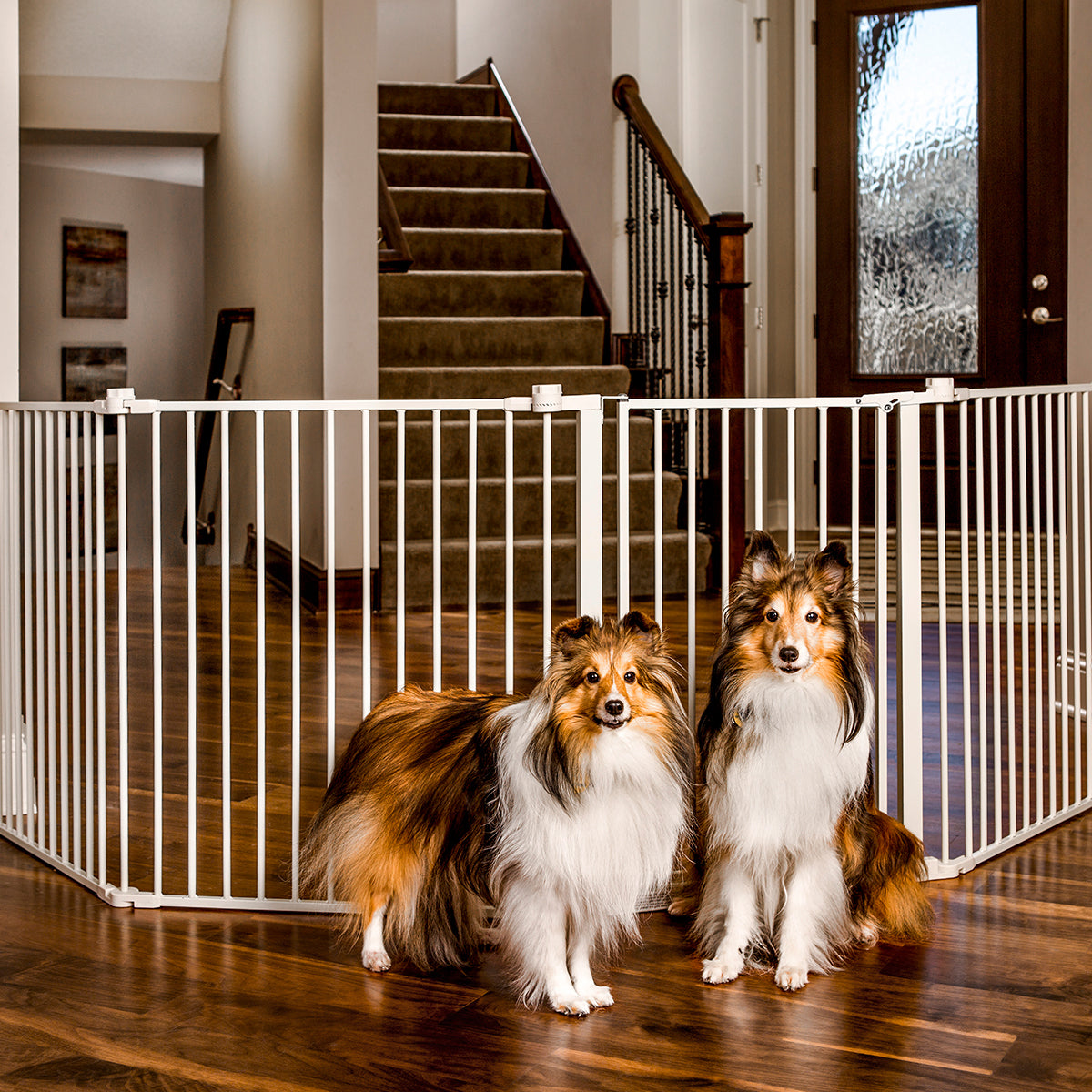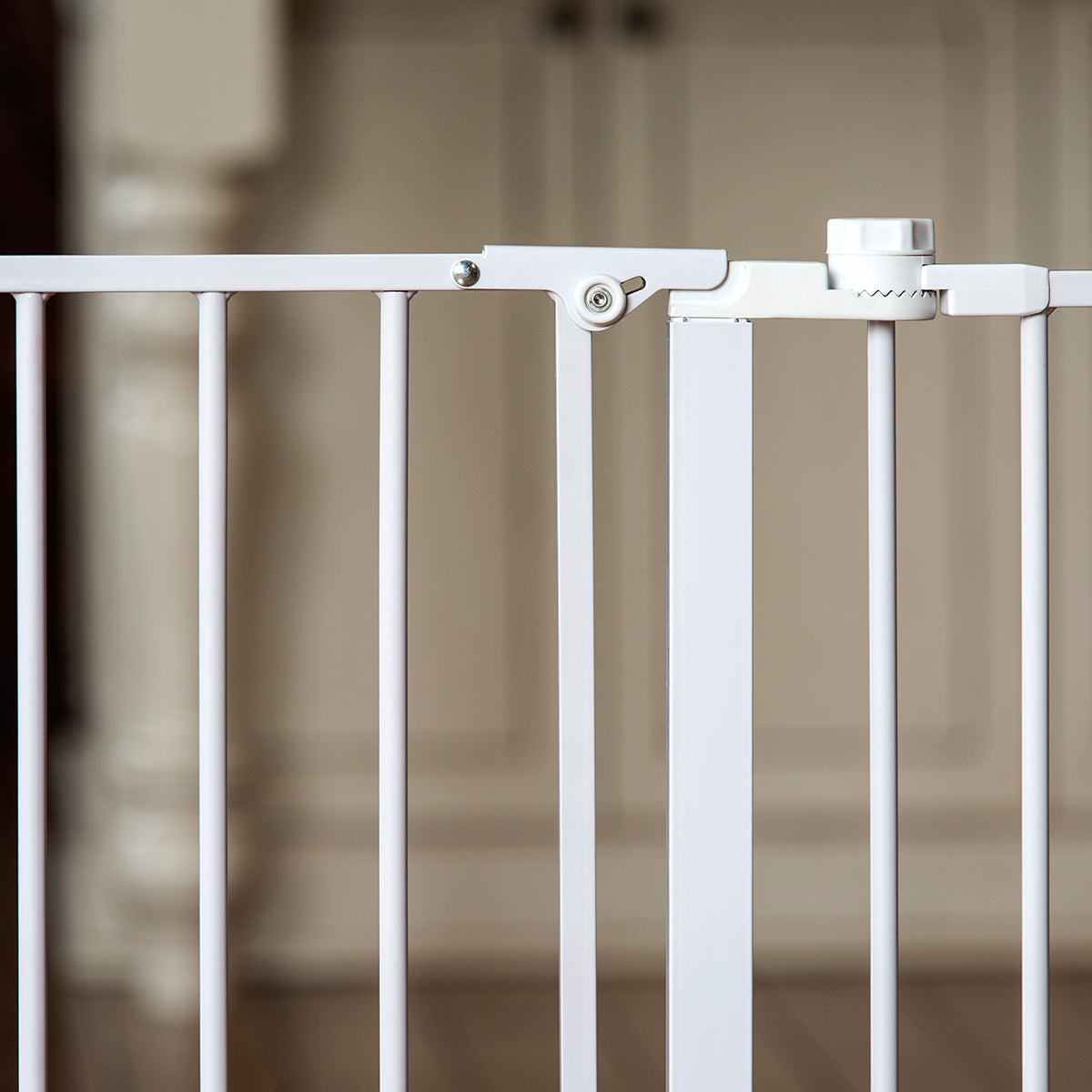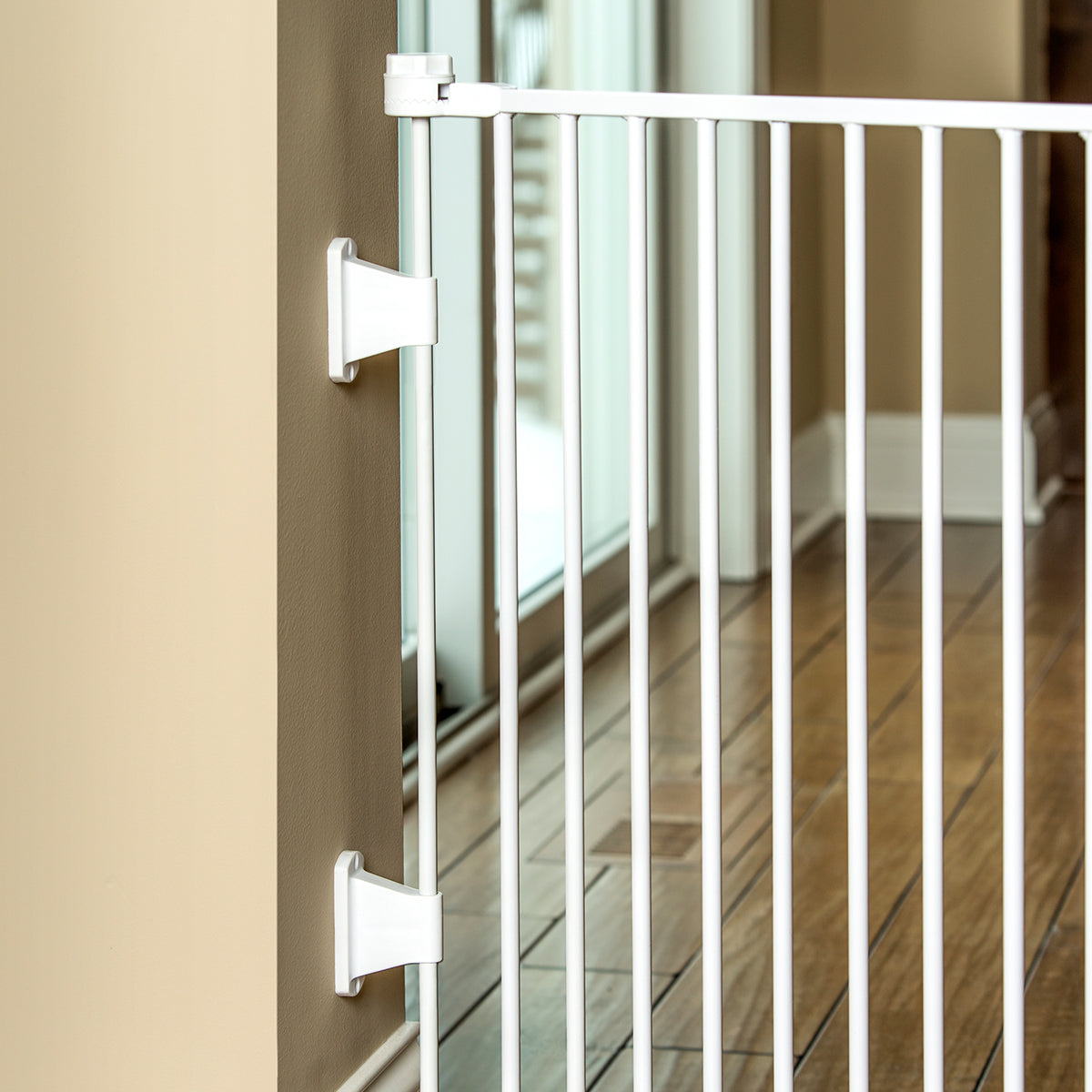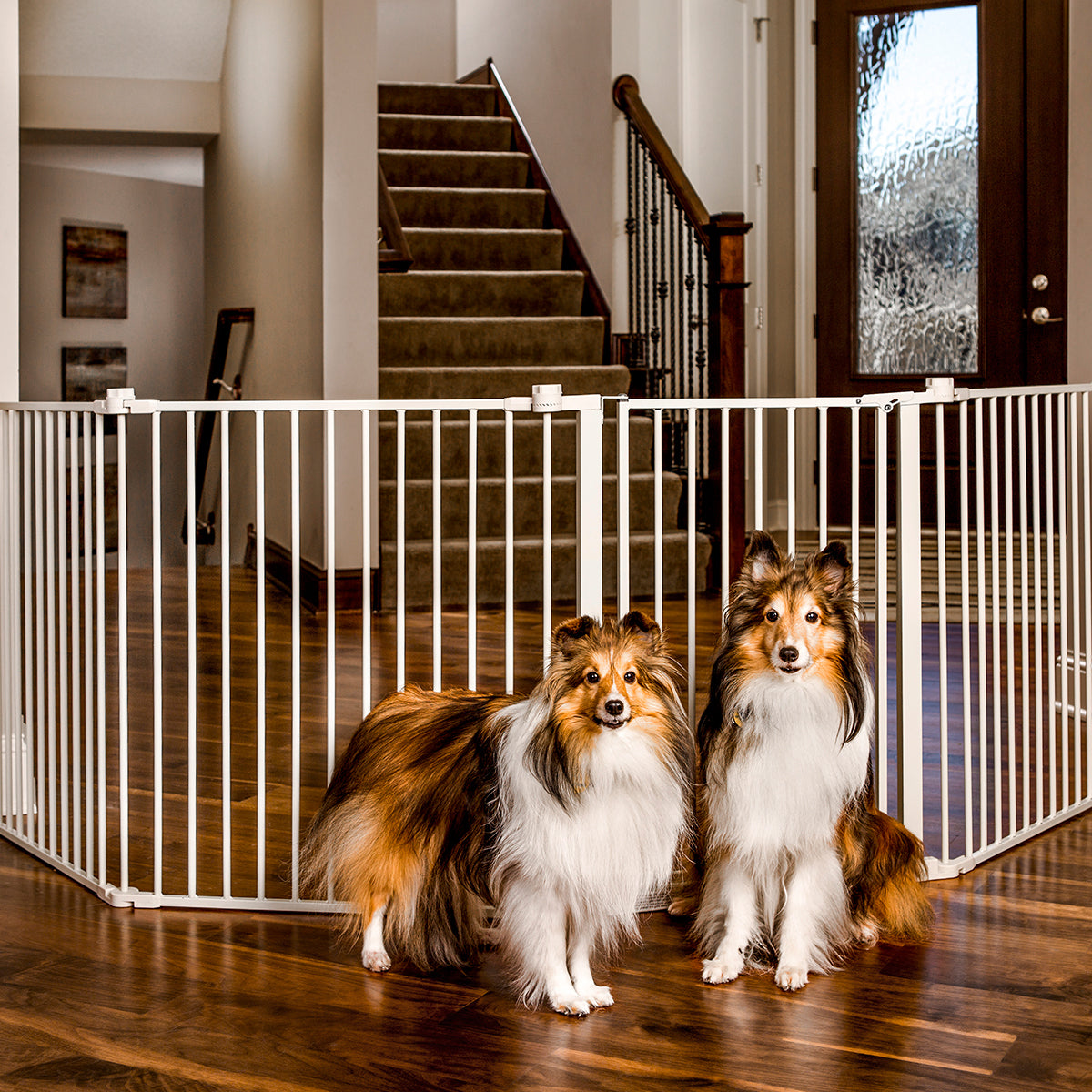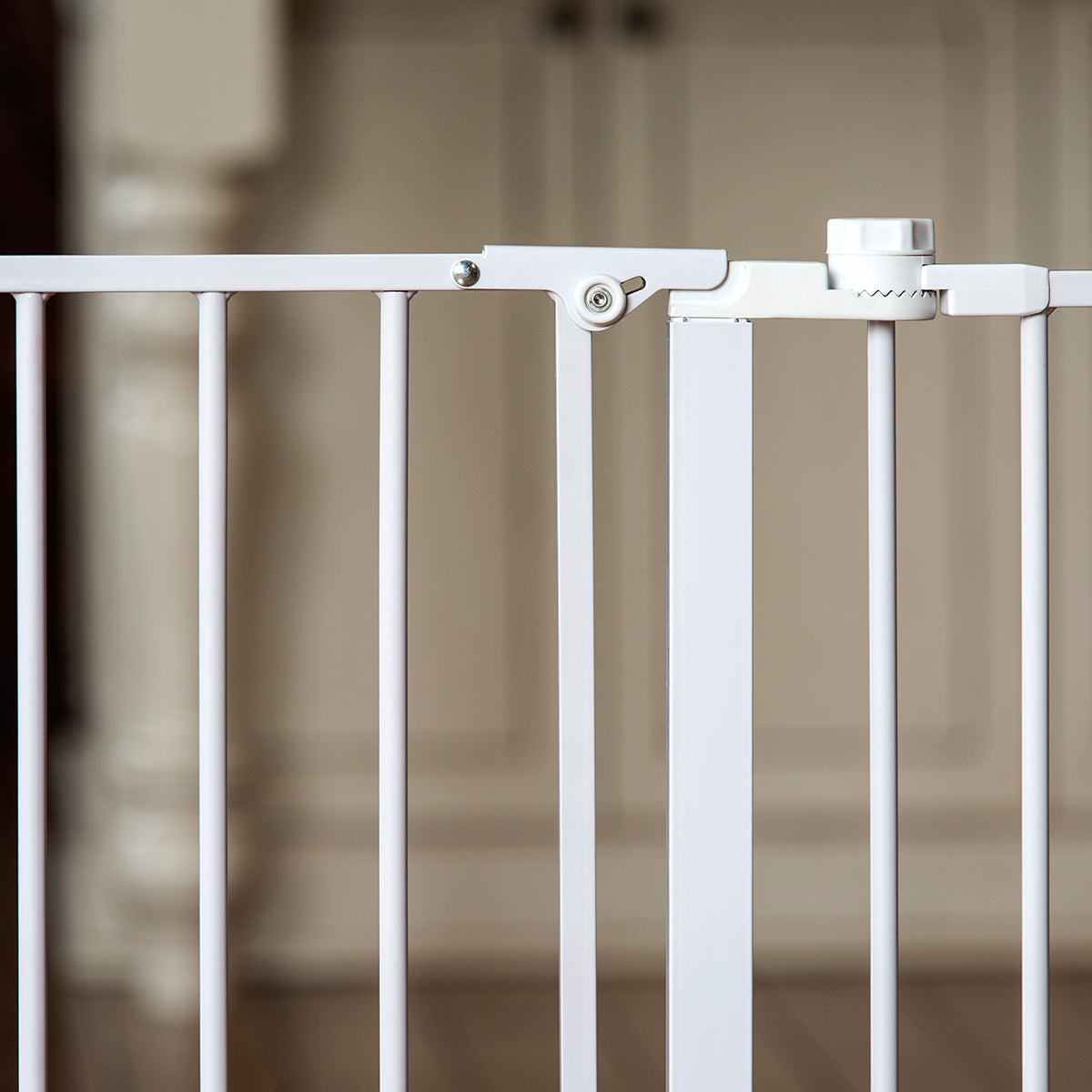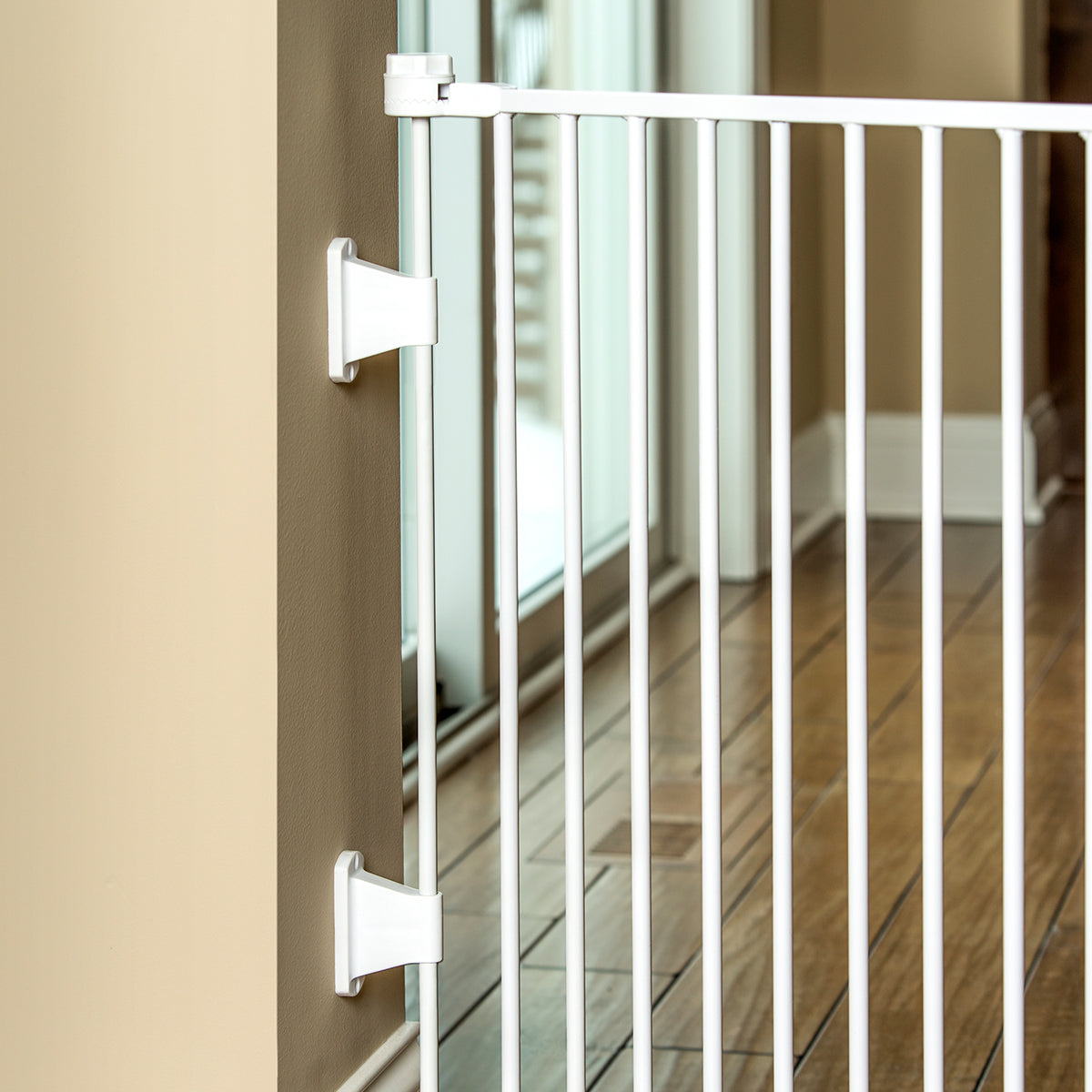 Super Wide Convertible Pet Gate
To contain your pet in space with a wide opening can be a challenge. Enter the versatile Carlson Super Wide Convertible Pet Gate. The convenient, chew-proof gate is a unique way to contain and protect both your pet and home.
The versatile design of the hinged posts on the Super Wide Convertible Pet Gate offers an amazing variety of shaping possibilities and allows the gate to easily mount to the wall, spanning openings up to 120" wide.
The 100% steel constructed gate offers a walk-through door designed with a double lock lever handle allowing adults to easily pass through. The variety of configurations of this gate make it a unique way to contain your pet.
Product Information
Product Details
Color: White

Includes 5 – 24" panels

Can span openings up to 124" wide

Stands 28" tall

Easy lever-style handle with sliding release safety lock

Convenient walk through design

Easy set up with accordion style gate

Hardware to mount to wall

24" Extensions are available

Sturdy, all metal frame

Model: #2450
What's Included in the Box
One Carlson Super Wide Convertible Pet Gate
Instruction Manual
Eight Screws
Four Wall Mount Brackets
The Carlson Super Wide Convertible Pet Gate is backed by a manufacturer's limited 90-day warranty. Carlson's gates are designed specifically for your pet. Instead of repurposing baby gates, Carlson has created a solution that suits all breeds and lifestyles.
Sturdy Construction, Quick Installation
The Carlson Super Wide Convertible Pet Gate mixes functionality with convenience. Featuring a 100% steel frame, the gate installs to the wall in minutes and includes five removable 24" panels arranged in an accordion style shape. To truly accommodate large openings, the flexible hinged posts allow the gate to configure for multiple openings and can span up to 124" wide. That's 10 feet wide!
With a gate expanding that wide, installation seems like it would be a hassle. On the contrary, our Super Wide Convertible Pet Gate installs in minutes. Simply attach the mounting hardware to the wall and slide the gate into place. Standing 28" tall, the Carlson 120" Super Wide Pet Gate can easily be moved around and configured to be a fireplace barrier, a gate for a super wide space, or a barrier to block oddly shaped openings.
If you need to create a larger gate, more 24" extensions (beyond what is included) can be added. Additional extensions are sold separately.
Packable, Portable, Convenient
With such a large pet gate, a walk through door is a must. Equipped with a 16" door, adults can pass through by simply sliding and releasing the safety lock and lifting up on the handle. The design is an invaluable benefit compared to stepping over the gate every time.
Because you may not want the gate up at all times, the Carlson 120" Super Wide Pet Gate is lightweight, portable and folds accordion style to stow compactly.
ALL-STEEL CONSTRUCTED

CHEW-PROOF DURABILITY

90-DAY WARRANTY