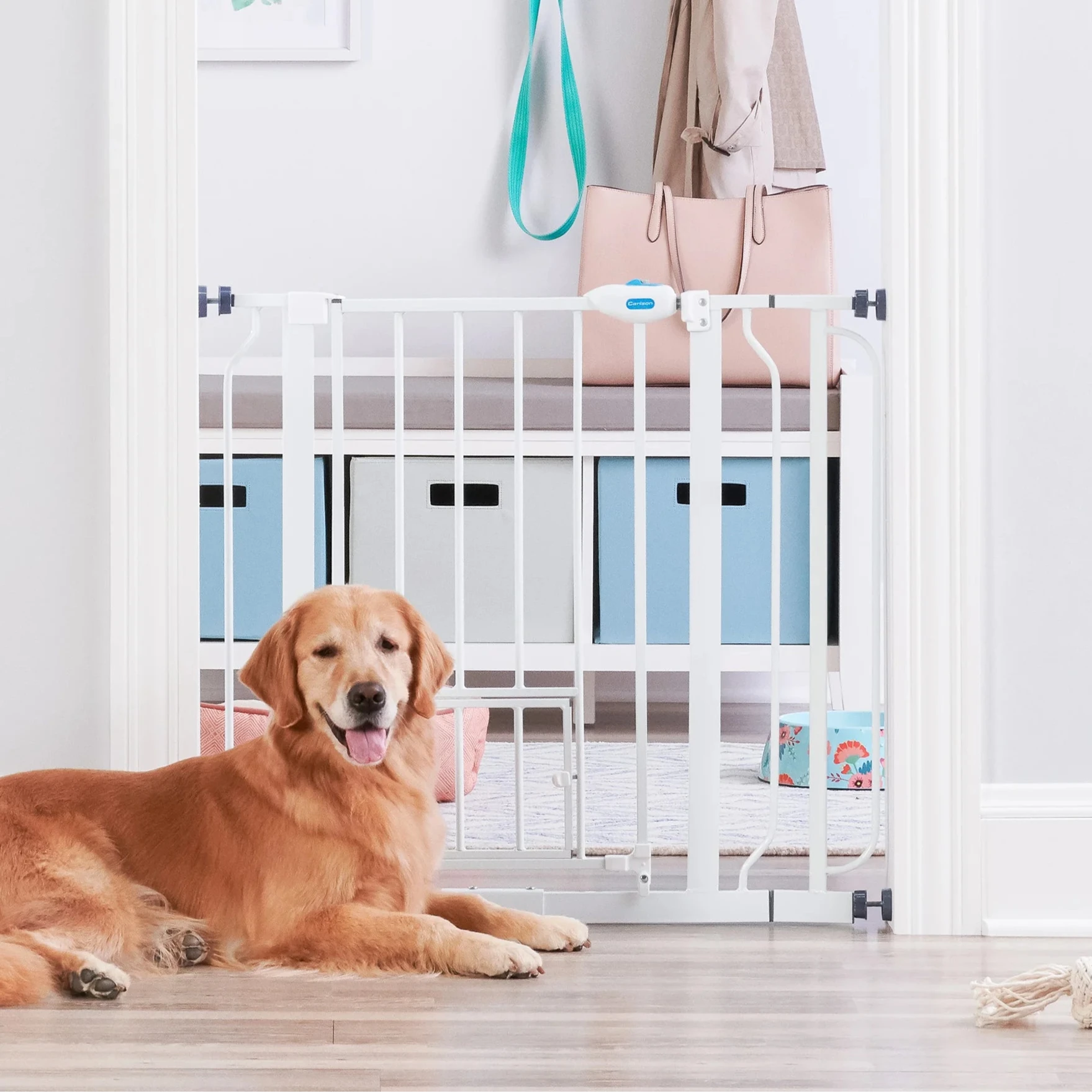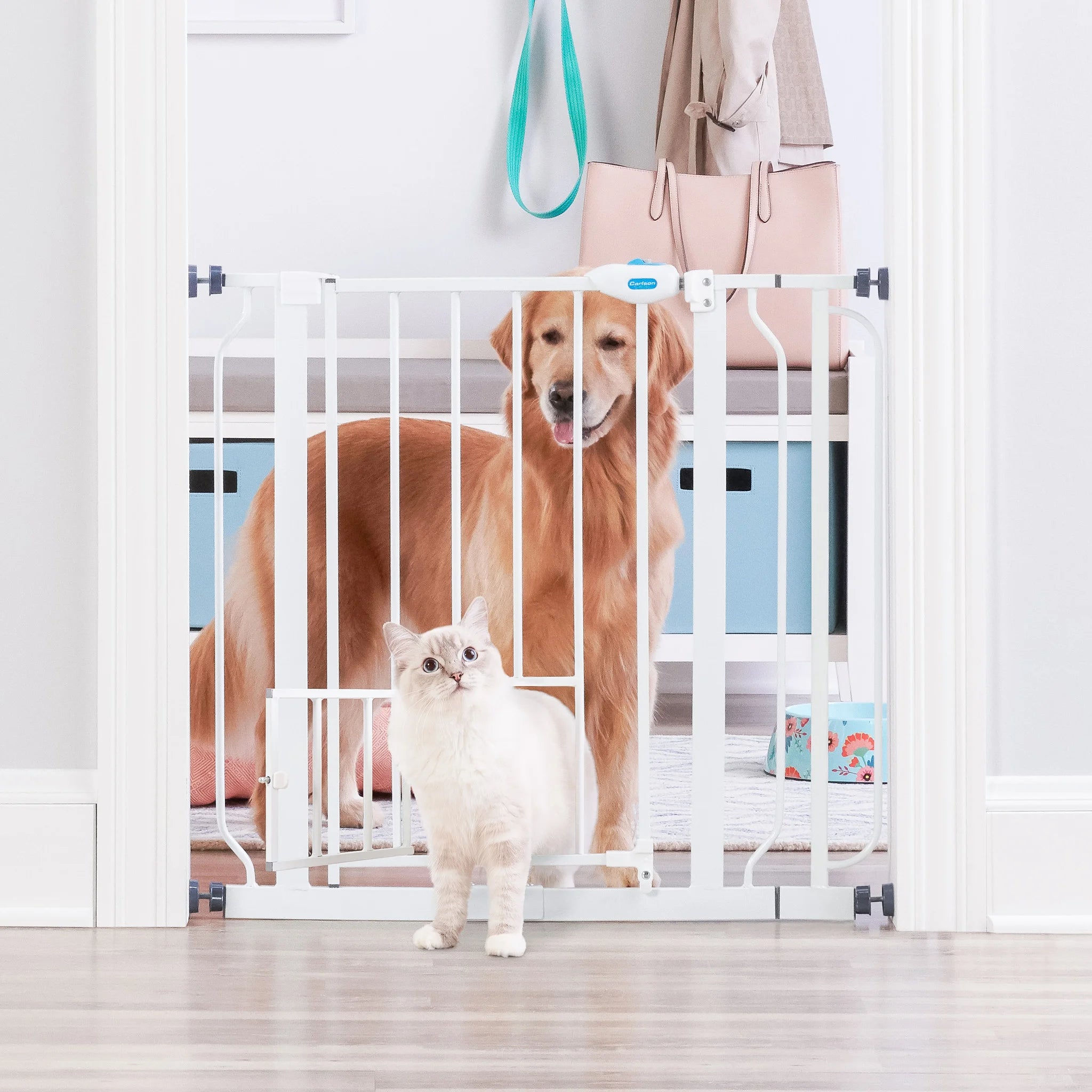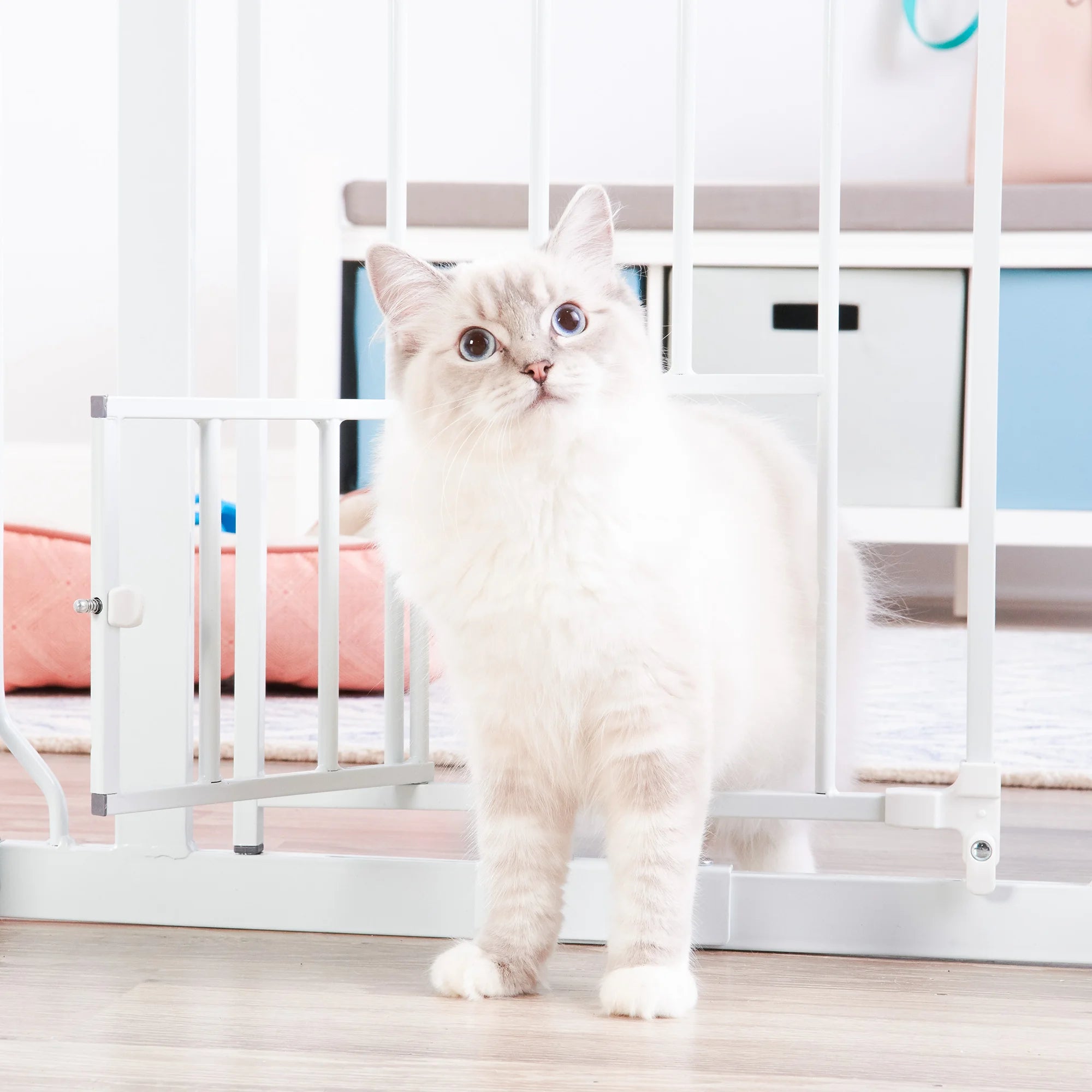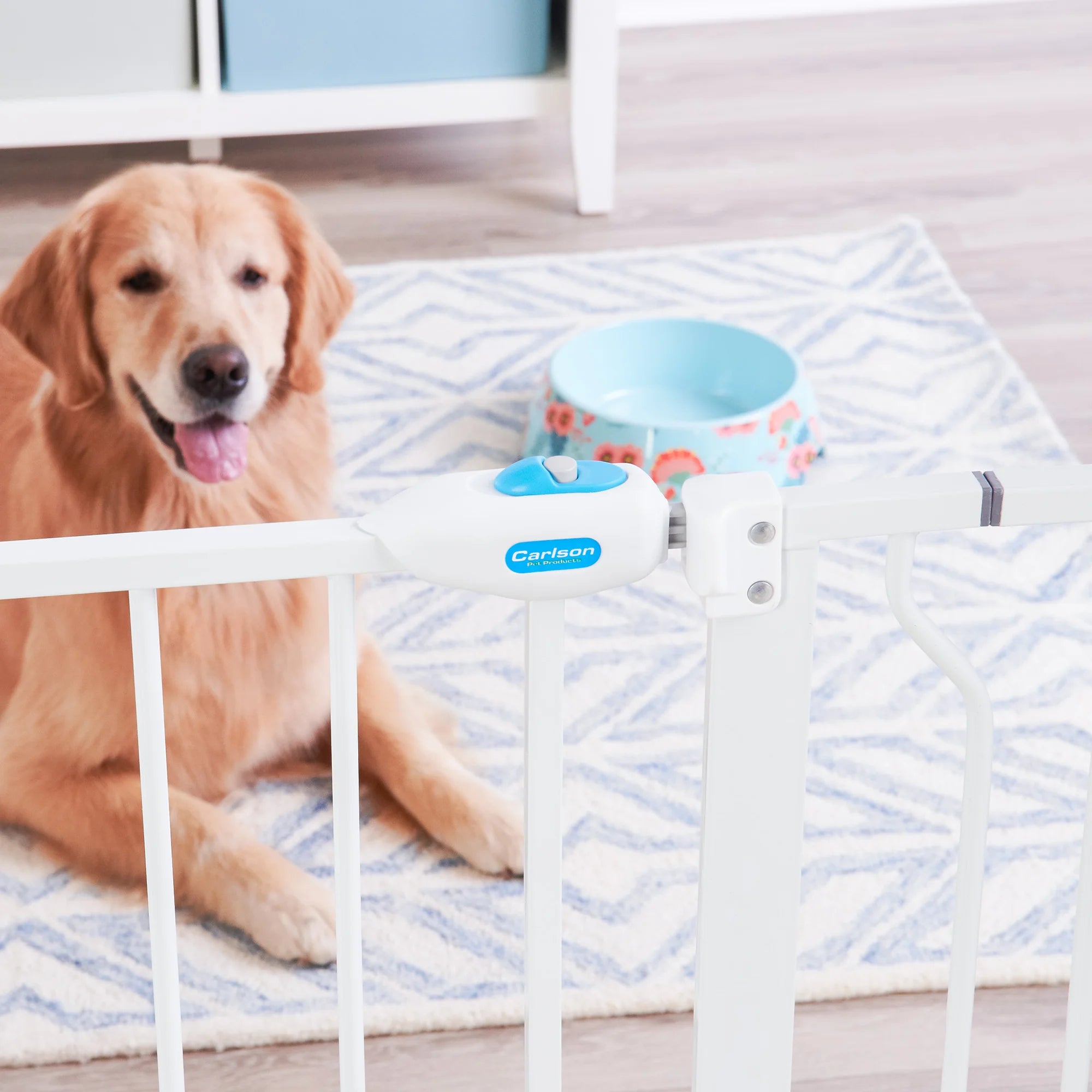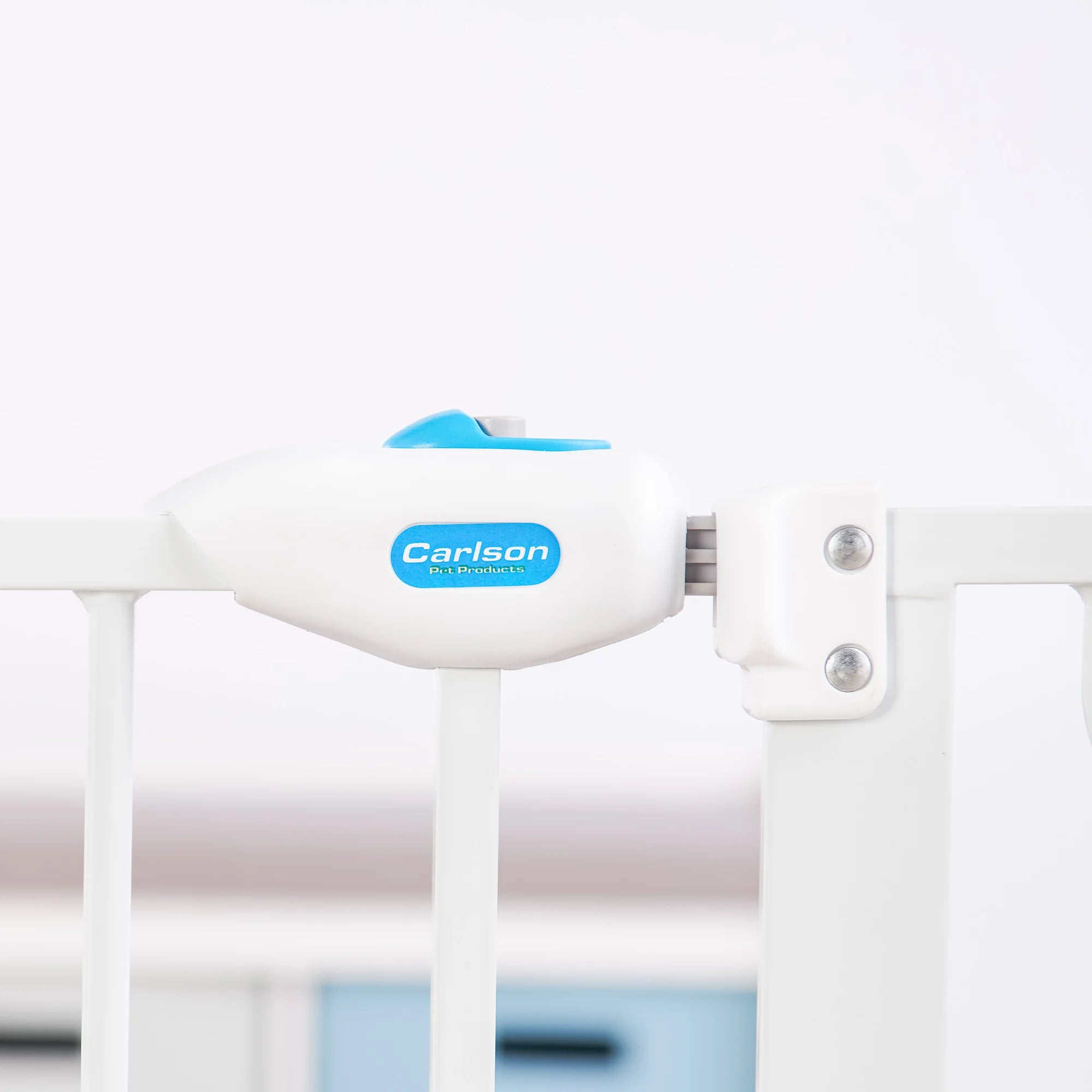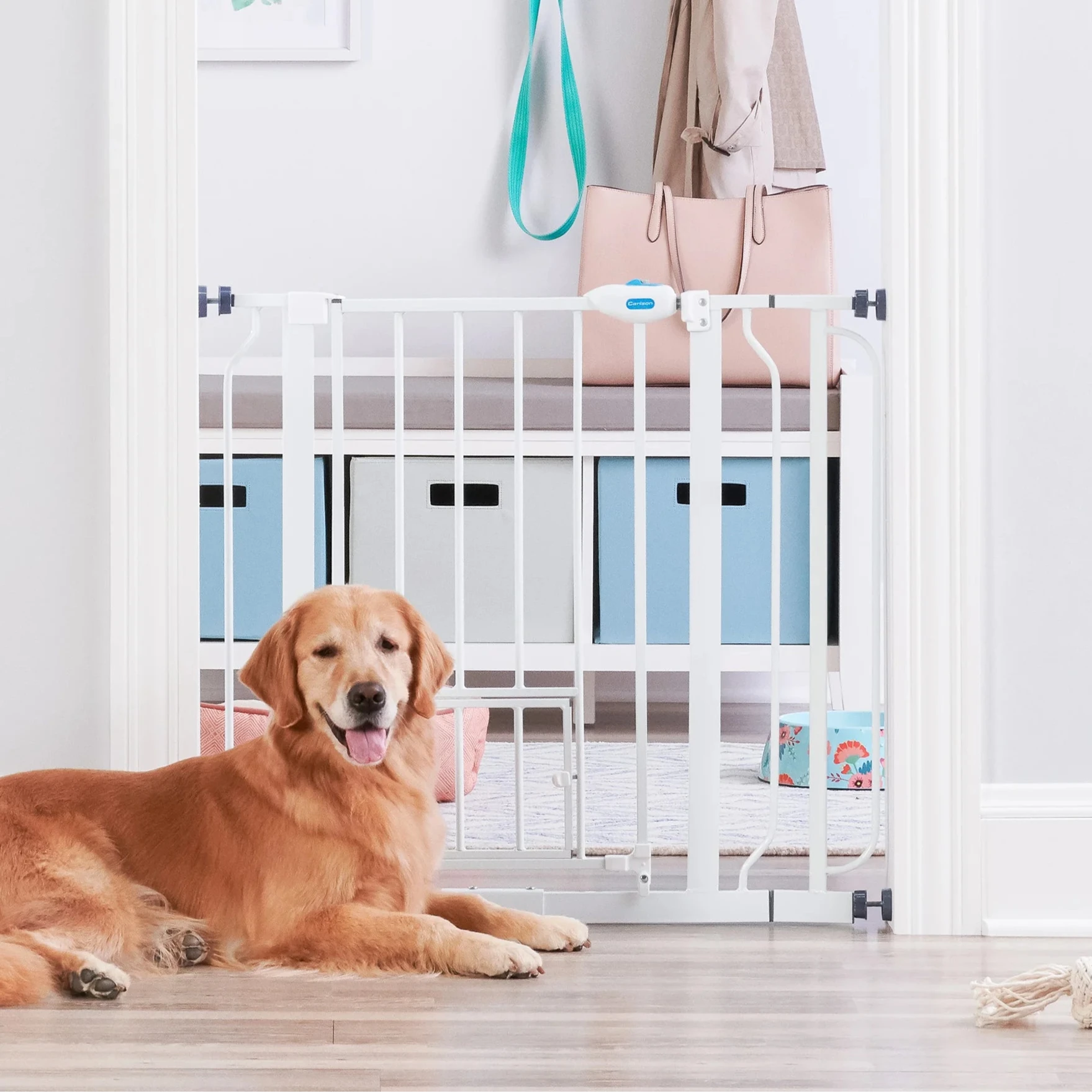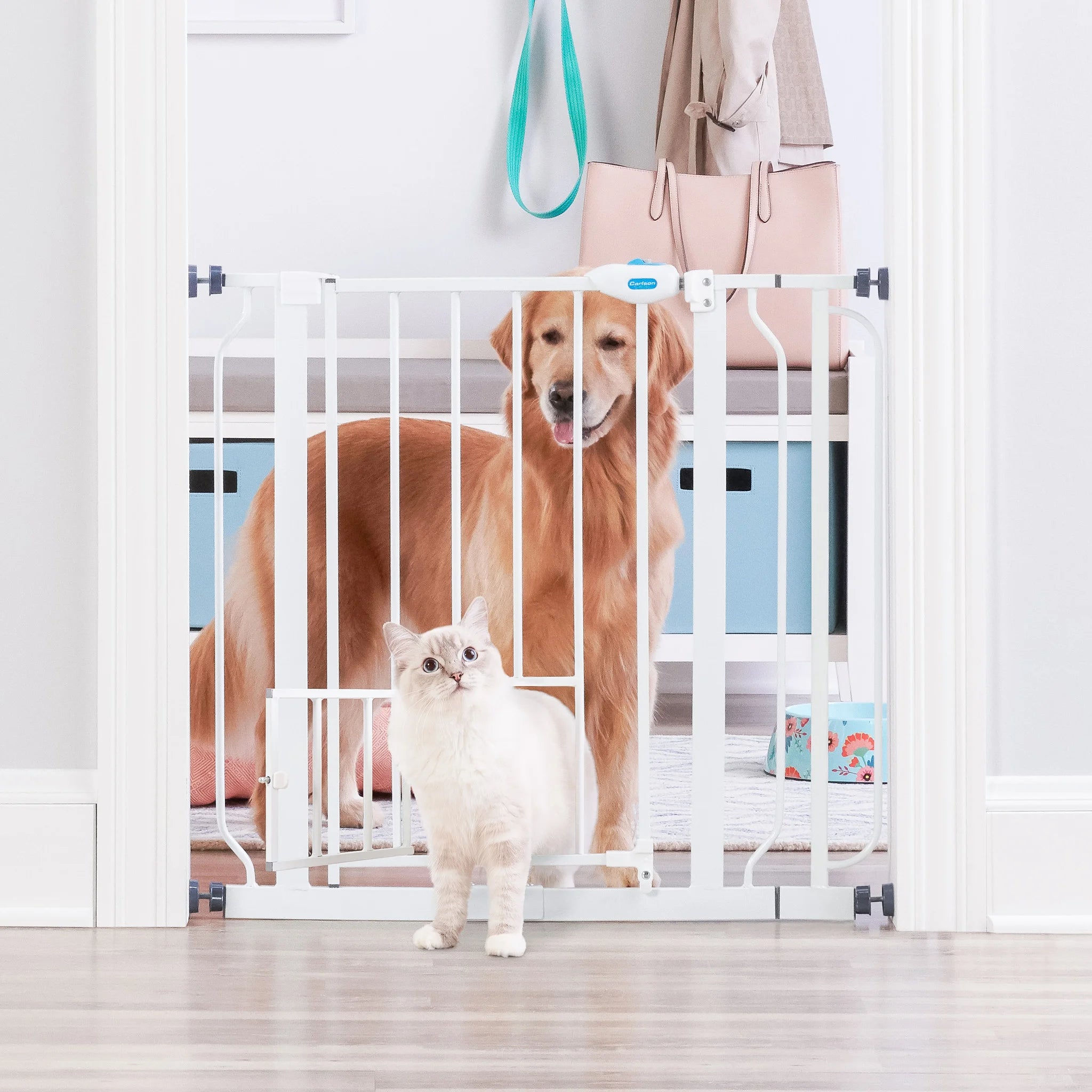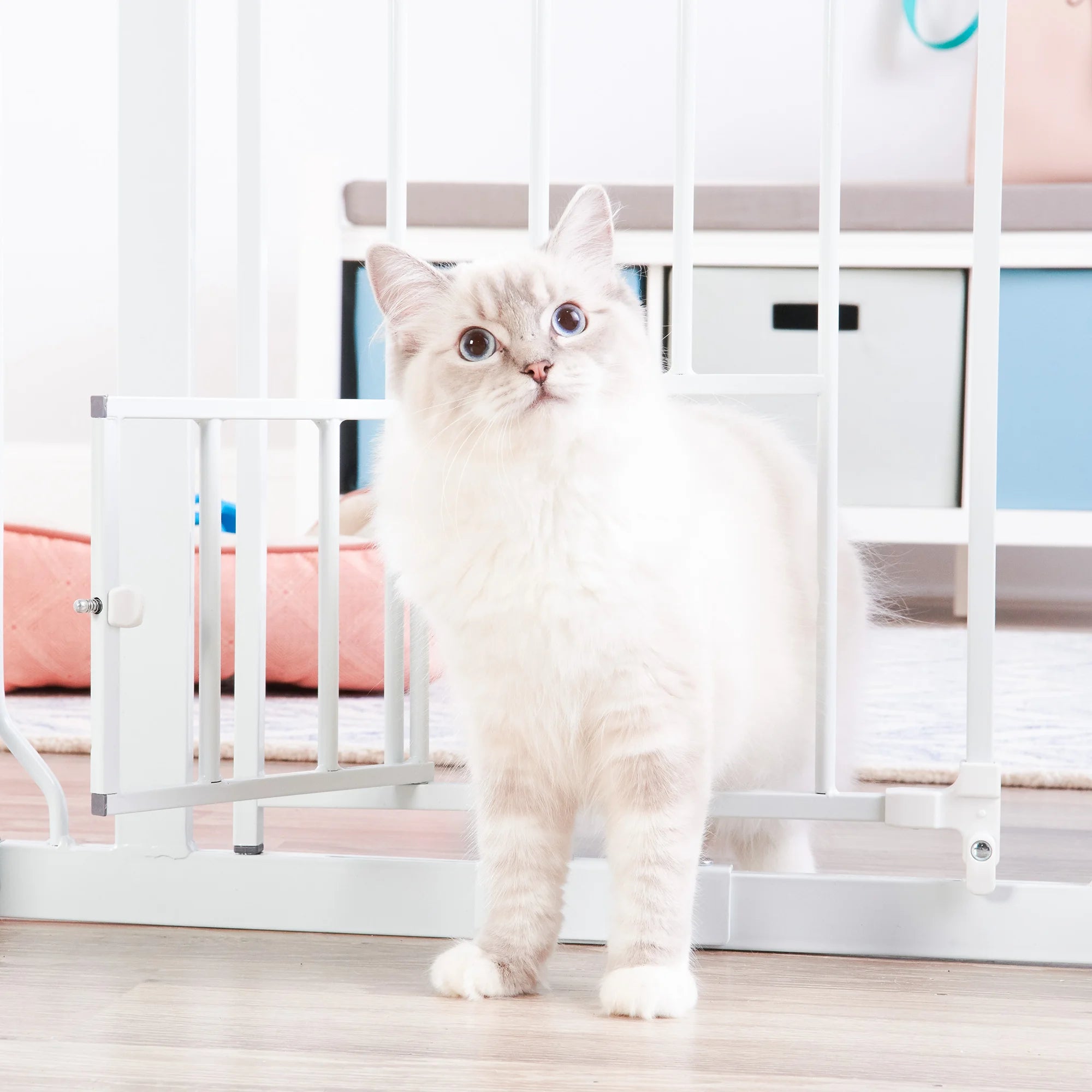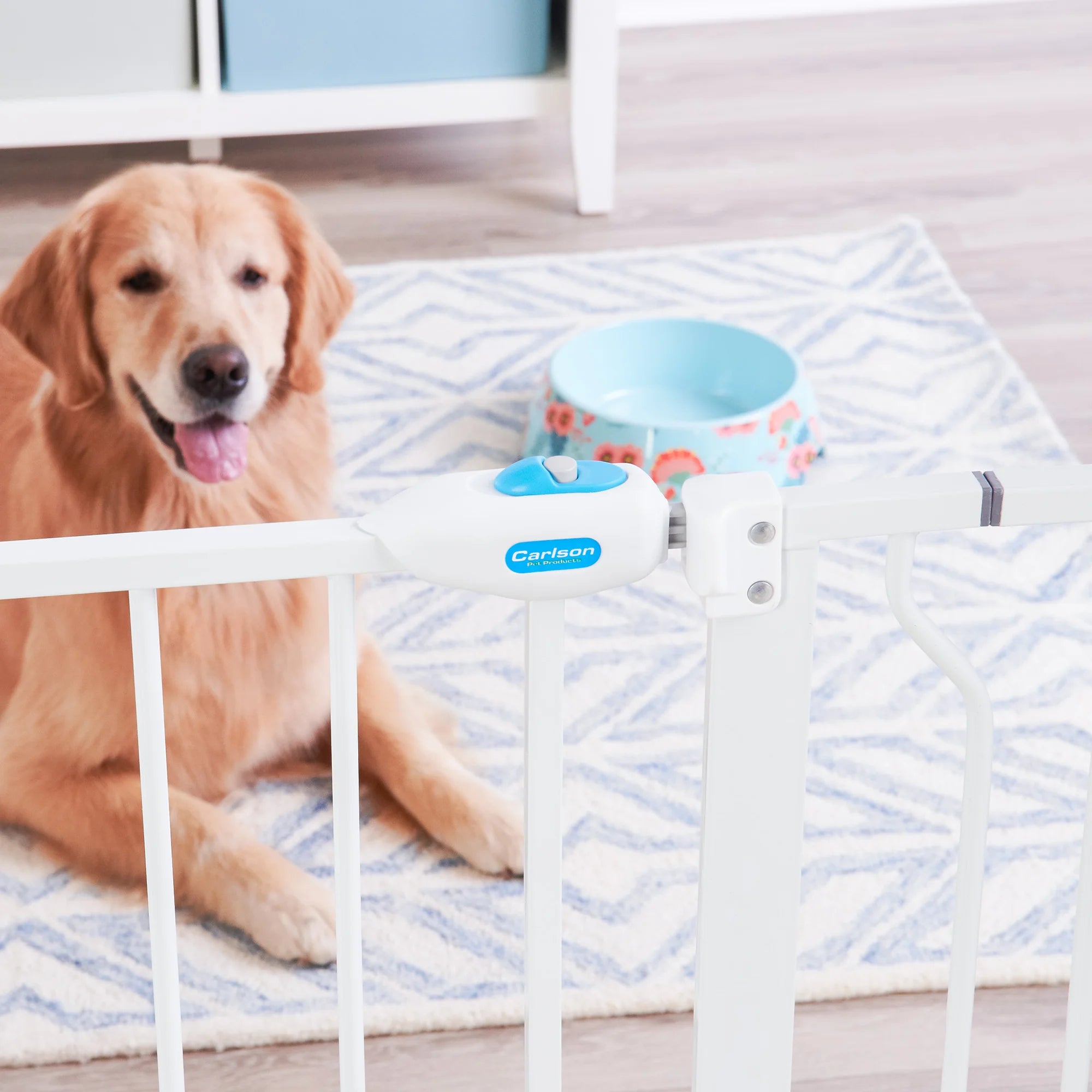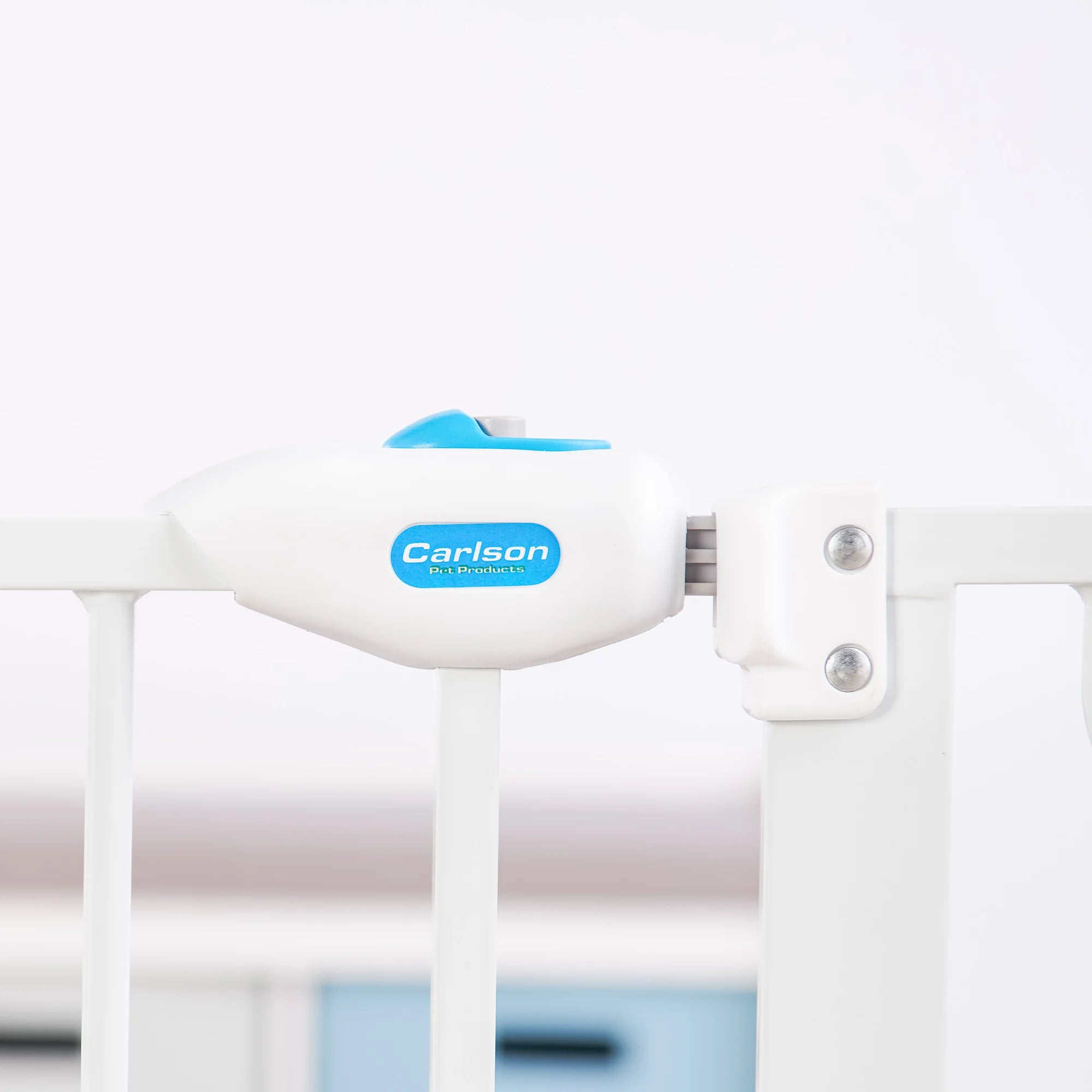 Extra Wide Walk-Thru Pet Gate
with Small Pet Door
An essential tool for homes with pets, the Carlson Extra Wide Walk-Thru Pet Gate with Small Pet Door is a convenient, chew-proof way to contain and protect both your pet and home. Made of an all-steel construction, the sturdy pet gate can be operated with ease and is designed to make passing through the gate frequently a breeze.

If the thought of putting holes in your walls makes you shudder, our pressure-mount system makes installation simple. Because openings vary in size, this gate is expandable and ideal for openings between 29" - 36.5".
The same convenience is provided to your pet as the gate features a 8" x 8" door letting small animals pass through while keeping everyone else stays out. 0730, 0734
Shop your favorite retailer below:
Product Information
Product Details
Color: White

Expands to fit openings between 29" - 36.5"

Stands 30" tall

Easy slide handle with one-touch release safety lock

Convenient walk-through design

Features an 8" x 8" door for small pets to pass through

Easy set up with pressure mounts, some assembly required

Hardware to mount to wall

4" extension included

Sturdy, all metal frame

Models: #0730PW, #0734, #0930PW
What's Included in the Box
One Left Side Frame Half
One Gate Door Pane
One Right Side Frame Half
One 4-inch extension kit
Four threaded spindle rods
Four 1" Wall Mount Screws
Four wall cups
One Spring Loaded Upper Door Mounting Pin
Two Frame Assembly Screws
One Hex Key
The Carlson Extra Wide Walk-Thru Pet Gate with Small Pet Door is backed by a manufacturer's limited 90-day warranty. Carlson's gates are designed specifically for your pet. Instead of repurposing baby gates, Carlson has created a solution that suits all breeds and lifestyles.
Sturdy Construction, Quick Installation
Mixing functionality with convenience, the Carlson Extra Wide Walk-Thru Pet Gate features a 100% steel frame, that installs in minutes. The assembly gate comes in three pieces and easily assembles with a few screws.
Each of the four pressure mounts can be adjusted to create a stable and secure fit. If you'd prefer to hardware mount, the included wall cups will help you attach it to the wall. Standing 30" tall, the Extra Wide Pet Gate is a perfect height. We know that door openings and hallways can vary in size, so we've made an extra wide gate to fit doorways up to 36.5" wide. More extension kits (above and beyond what is included) can be added to accommodate wider spaces. Additional extensions are sold separately.
Packable, Portable, Convenient
The gate's convenient design allows adults to walk through by simply pushing the safety button and sliding the handle. The 16" door opening provides space for you to walk through; an invaluable benefit compared to stepping over the gate every time. Your small pet is afforded the same convenience as the gate and yard feature an 8" x 8" pet door allowing your small animal to pass through easily.
When you need to take your gate down, the Carlson Extra Wide Walk-Thru Pet Gate is lightweight, portable and stows flat – making it easy to shove in your closet before guests arrive or pack along when traveling with your pets.
ALL-STEEL CONSTRUCTED

CHEW-PROOF DURABILITY

90-DAY WARRANTY